U.S. Congressman Danny K. Davis Joins Attorney Jeffery Leving with a Back to School Message
By FEI — September 03, 2014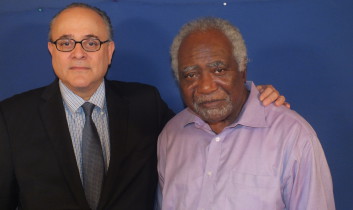 U.S. Congressman Danny K. Davis, D-Ill, encouraged viewers during a live broadcast of Chicago Counterpoint TV to get involved in the early education of their children to improve reading scores.
"We need to convince children at an early age that this business of education is vital and the best way to reduce illiteracy,'' said Davis, a guest of the recent Back to School Special Edition of Counterpoint TV.
Davis is a longtime supporter of the Fatherhood Educational Institute, founded by Leving to provide positive role models for fathers, as well as essential legal education to unwed dads, men in divorce and Chicago divorce lawyers seeking to expand their professional knowledge.
Leving also serves at the pleasure of the governor as the chairman of the Illinois Council on Responsible Fatherhood.
The Congressman complimented Leving for his tireless work and advocacy on behalf of men seeking to be better fathers.
"I applaud you for the public interest activities in which you are engaged," Davis said. "(For) pushing a concept called responsible fatherhood. For that, I say thank you."
About Author