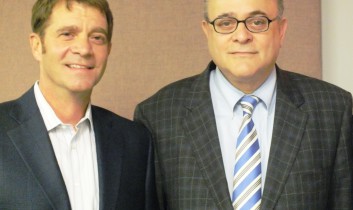 Joseph Della Monica, a producer of the film Love Is Strange, recently discussed the project on Chicago Counterpoint TV with host  Attorney Jeffery M. Leving.
The film was directed by Ira Sachs and stars Academy-Award nominated John Lithgow and Alfred Molina. Academy Award-winner Marisa Tomei also stars in the film. Lithgow and Molina play a long-term same-sex couple who marry and face job loss with the Archdiocese. Ultimately, the couple lose their apartment and have to live separately.
The story line reflects the real-life circumstances of a Chicago area music teacher who was fired from his post at Holy Family Catholic Community after marrying his partner.
Della Monica told Leving the  film, which premiered at the Sundance Film Festival,  is a "talking point" that will allow the audience "to see what a real gay marriage looks like."
Leving  attended a private screening of the film with Della Monica and Sachs and has been in discussions about a subsequent film project.
About Author