Attorney Jeffery Leving Presents Emmett Till's Family With Teen's Obituary on Chicago Counterpoint TV
By FEI — August 20, 2014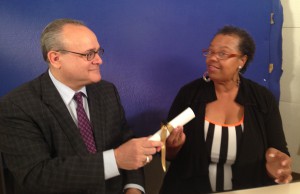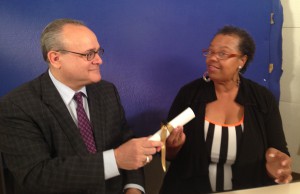 Fathers' rights attorney and advocate Jeffery M. Leving presented the family of Emmett Till with the obituary of their cousin  killed  in 1955. The presentation came during the  live broadcast of Chicago Counterpoint TV  and was followed by an  interview with  Ollie B. Gordon.
Leving asked how Mobley might feel about the events in Ferguson, Mo., and their relevance to Gordon's nonprofit, the Mamie Till Mobley Memorial Foundation. "If Mamie were alive to see what's going on in Ferguson, her heart would be heavy. It's almost 60 years later and we are still struggling," said Gordon,  Mobley's cousin and surrogate daughter.
On Aug. 9, Michael Brown, an unarmed black teen was shot by a white police in Ferguson, Mo., touching off weeks of rioting. In August, 1955, Gordon's 14-year-old cousin, Till, was killed in Money, Mississippi. His mother sparked a national outcry when she displayed his mutilated body for the world to see.
Leving secured the newspaper obituary after Gordon shared with him that the family did not have one. "I'm honored to be able to provide this for them through my good working relationships at the Chicago Defender,'' he said.
Gordon said the shooting of  Brown reinforces the need for the foundation, which she co-founded in 2009 to honor her cousin and advance efforts to shine a light on social injustices that demoralize the community. "We have to encourage young men and instill confidence so they can be effective fathers who raise successful children,' 'she said.
Chicago Counterpoint TV is broadcast live on Channel 21 of Chicago Access Network television (CAN-TV) and provides positive role models for fathers, as well as essential legal education to unwed dads, men in divorce and Chicago divorce lawyers seeking to expand their professional knowledge. Gordon co-founded the Mamie Till Mobley Foundation, which "remembers the past and educates the future" through enrichment programs and speaking engagements.  A retired public school teacher, Gordon spent 17 of her 34 years working in the Correctional Education Environment at Cook County Jail.
About Author