At the 2013 Inauguration, President Barack Obama's Legacy Entwines with Martin Luther King's
By FEI — January 19, 2013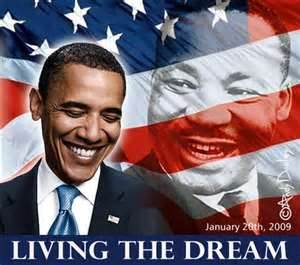 The inauguration of President Barack Obama will include nationally respected fatherhood advocate Jeffery Leving among its guests this Martin Luther King Day, 2013. In a ceremony symbolizing what Reverend Jesse Jackson, Jr. calls "the last lap of the unfinished race" for African-American equality, the re-elected President Obama will be sworn in for his second term on a day that all Americans associate with the nation's greatest moral struggle.
Mr. King's non-violent activism brought down the century of segregation, oppression and abuse of African-American people that followed their emancipation from slavery and the Civil War.  In King's honor, the Saturday before the inauguration, January 19th, has been declared a National Day of Service by President Barack Obama. Charities across the country will be holding events.
Jeffery Leving is the founder of the Fatherhood Educational Institute (www.fatherhood-edu.org), a charity which promotes positive fatherhood involvement in impoverished communities. He is also chairman of the Illinois Council on Responsible Fatherhood (www.ResponsibleFatherhood.Illinois.gov). In 2012, Mr. Leving was awarded The National Call to Service Award by the President for his charitable work promoting fatherhood.
When 72 percent of African-American children are born to unwed mothers, and African-American men drop out of school and face prison at alarming rates, the inauguration is the perfect time to take the President Barack Obama Fatherhood Pledge, an invitation to men all over America to "step up to the plate" and become the caring male role models their children need.
The 2013 National Day of Service in honor of Martin Luther King, Jr. is also the perfect time to become involved in Jeffery Leving's charity promoting the presence of responsible male role models in children's lives. FEI and the Illinois Council invite men and women from all walks of life to become involved in this important work.
To celebrate both the historical 2013 inauguration of President Barack Obama and the legacy of Martin Luther King, Jeffery Leving, in cooperation with Our Black Heritage and The Fatherhood Educational Institute, invites black men and women from across the country who have caring, engaged fathers to submit their stories to be shared on our web site, www.ourblackheritage.com. The stories will be posted during Black History Month for permanent viewing.
While Our Black Heritage is a site devoted to historical documents, we want to share the LIVING history being made by black fathers who are fighting to turn the tide of this national crisis of father absence. The inauguration of President Barack Obama and Martin Luther King Day is the perfect time to submit stories that will give an example to all the young men out there who are trying to figure fatherhood out.
To share the story of your responsible black father for this project funded by Jeffery Leving, please submit your father profile of less than 1,800 words and 1-2 jpeg images to Laura Fletcher at  info@ourblackheritage.com or dial (312) 407-6849. To get involved with FEI and its charitable work, contact mail@fatherhood-edu.org or dial (312) 795-9060.
Martin Luther King's mission doesn't end with President Barack Obama's second inauguration. It starts with all of us.
About Author