Ardent Litigator Jenét Pequeño on "Chicago Counterpoint" with Jeffery M. Leving Tonight
By FEI — February 16, 2012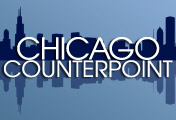 CHICAGO – Feb. 16 – Globally recognized and award-winning divorce attorney Jeffery Leving (of http://dadsrights.com) will feature hard-hitting litigator and negotiator Jenét Pequeño as his guest legal analyst on "Chicago Counterpoint" on CAN-TV/Ch.21 at 8:00PM tonight. Attorney Pequeño will provide the details and strategies employed to recently emerge victorious reuniting a Chicago father with his son.
The young child is now safely home with his father.  Dad was relieved to know that he can now raise his son in a safe and nurturing environment.  After the trial victory dad said, "Thanks to the whole team, especially Jenét, I have my life back." Pequeño will enlighten the viewing audience and live call-ins exactly how his client obtained this unusual result.
As a key member of the Leving Legal Team, Pequeño has reunited many disenfranchised fathers with their children. In another widely-publicized case, Jenét was able to secure court intervention and approval for his client to baptize his son. "Evil triumphs when good men do nothing," said Pequeño. "Failure was not an option here."
Pequeño has crafted a distinguished track record of bringing hope and light to many fathers who may have otherwise lost their children. This also includes the reunification of a Chicago father with his two young daughters, ages 1 1/2 and 2 1/2, preventing the mother from abducting the children to an alleged notoriously high drug-crime area of Mexico. The mother wrongfully removed the children from Illinois to Texas which is a direct route to her parents and numerous relatives near Zacatecas, Mexico.
"These are the types of cases where we can make a difference in the lives of children," said Jeffery Leving.
"The critical challenge we deal with is securing the welfare of young children and putting them in the best situation for success," said leading attorney Jenét Pequeño. "Through the tireless efforts and advocacy of the Leving Legal Team there is now a precedent established where enlightened judges can operate for the best interest of the child over adhering to antiquated bias."
"Chicago Counterpoint" Host Atty. Jeffery Leving has co-authored the new Illinois Right to DNA Testing Notice and Unlawful Visitation & Parenting Time Interference Laws, as well as the Joint Custody Law.
CAN-TV, Chicago Access Network Television, has five local channels that reach over one million viewers throughout Chicago.
About Author